[I turn 50 in 43 days. This is #8 in a series of reflections on turning 50]
Talking about soccer in the past two posts reminds how important sports coaches have been in my life. I had three significant swim coaches that had a tremendous influence on me and the person I am today. 
My first significant was coach Jack Nelson. Jack was coach of the Pine Crest High School swimming team and the Jack Nelson Swim Club in the 70's and later the Fort Lauderdale Swim Team (FLST) where I swam in high school. Throughout my grade school and high school years, he was like a second father and helped keep me on the straight and narrow. Coach Ron Young was also a coach on FLST when I was 13 and 14 is memorable to me now for his ability to squeeze speed and endurance out of me that I did not know I had. Lastly, my coach at Furman University, Howard Wheeler is probably the main reason I got to go to a school like Furman and actually made it out the other end. As I recall, he even bailed me and several teammates out of a Huntington, West Virginia jail after one particularly embarrassing, end-of-season drunken public performance. (and that's all I'm going to say about that!)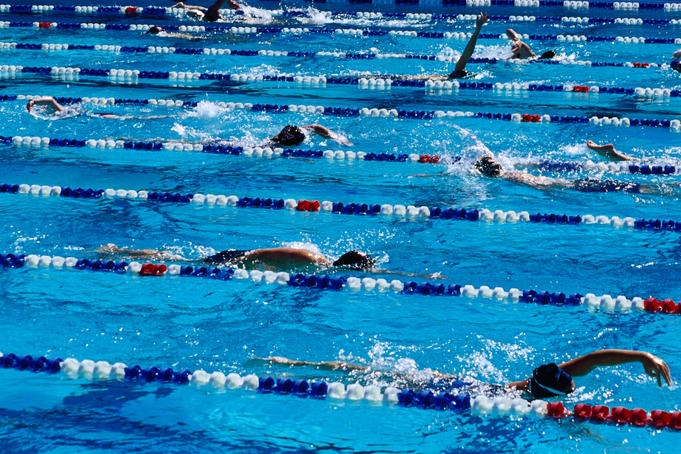 Good coaches have the unique ability to blend unconditional support with a very high dose of challenge. They have incredibly high expectations and are genuinely disappointed when you don't try your hardest or do your best. When I was younger, I often cried because my coaches were so hard on me; and I bitched, yelled, and flipped the bird back at them when I was a teenager. In my many years of swimming (16 years +/-), under the guidance of these caring coaches, I learned a lot about discipline, respect, hard work, and about myself and what I'm capable of when I work hard. 
Now my daughter is playing sports and has her first great coach. He has high expectations and is hard on her, yet as gentle and supportive as he is to his own daughter. She gets frustrated and cries when he pushes her to do better. She doesn't quite understand it yet, but I can see that she's learning about herself and what she is capable of. There's nothing like a great coach to help you do that. 
As I get older, I find that I have to rely mostly on my own internal drive to push for more. There are times when I wish I had a good coach to push me to finish that morning run, grade papers quicker, or try a little harder on that manuscript I'm working on. So every once in a while I try to channel one of my great coaches of the past to help me do my best. Just the memory of them often does the trick even now. 
So, here's to turning 50. Here's to support and challenge. Here's to great coaches.